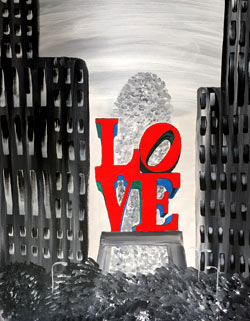 My passion for STUDIO BRUSHSTROKES started long before the process of actually opening a business. As a mental health therapist, I understand the connection between mind, body, and soul. If our hearts are happy, that is a huge step in finding joy, fulfillment, and good health in life. I view painting as a great way to release stress, have fun, and a mode to relax our guards just a bit.
Here at STUDIO BRUSHSTROKES we believe we can reach beyond the digital age of disconnection and get back to connecting in person. I think there is no coincidence that we serve Philadlephia( the city of brotherly love) and its surrounding areas. We give LOVE and HUGS freely at STUDIO BRUSHSTROKES so that everyone from the most outgoing to the least sociable individuals will feel comfortable with us.
So,
CONNECT. PAINT. FUN. REPEAT!
Who We Are

Hi, My name is Sue Ellen and I am the owner of STUDIO BRUSHSTROKES. I am a mental health therapist and recent graduate of UPenn GSE. I have 4 beautiful children and have been married to my soul mate for 6 wonderful years. I enjoy dancing, action movies, and laughing.....as much as I can.
Favorite emoji >>


Hi, My name is Tatiana! I'm a graduate of West Chester University and I majored in English Writing. I've always been into creative expression and not exclusively in written works. My affinity for art is displayed in many forms. I'm thrilled to be working as a painting instructor and I look forward to good times, meeting new people, and a few free drinks.
Favorite emoji >>